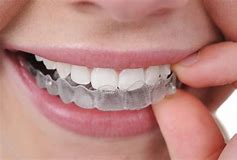 Invisalign is an orthodontic treatment option that allows people to straighten their teeth using clear trays, called aligners. These trays are made with a trademarked SmartTrack material that gently guides the teeth into the desired position. Tooth movement is also aided by composite attachments that are temporarily bonded to certain teeth depending on the movements needed. These attachments are the same color as the teeth and are hardly noticeable. Invisalign trays are worn twenty-two hours per day and are removed when eating. Each tray is worn up to two weeks and then changed for a new one.
Invisalign trays are removable and allow easier home care (brushing and flossing) than traditional braces. While this is a major benefit it can also be a hindrance. Compliance and wearing the trays is a must if Invisalign is to work. If you don't wear the trays the teeth are not going to move. Invisalign is a great choice for adults and very compliant teenagers.
There are definite benefits to having straight teeth. Straight teeth are more esthetically pleasing. An aligned bite is more conducive to a healthy mouth. When the teeth are straight, it allows for easier brushing and flossing. Easier oral hygiene diminishes plaque and calculus build up on the teeth leaving the gums and teeth happier.